Filming for this virtual event is Saturday, January 15th in Abbotsford. The details will be attached below for your reference again.
ADDRESS
Unit 14 34100 South Fraser Way Abbotsford
FILMING SCHEDULE FOR SNOWFLAKE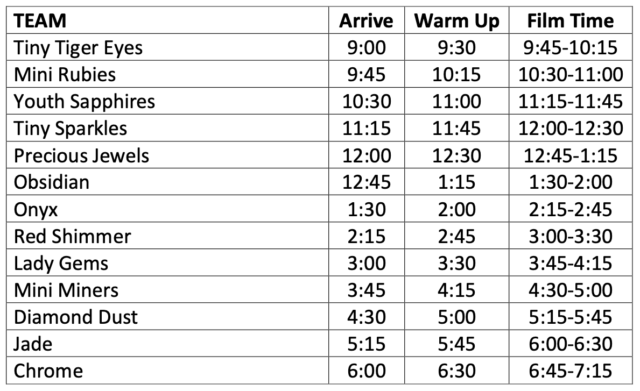 PARENT INFO
Will there be parent viewing during filming?
YES!  We will be allowing parents in for those teams who are scheduled in the gym.  Spectators must be able to provide a vaccine passport and photo ID.  Masks must be worn by spectators at all times.
Parking – there are parking spots in the complex but if you notice the lot is full there are lots of other parking areas around.
Full disclosure Abbotsford location is still under FULL CONSTRUCTION and will not be finished completely by next weekend, but we will have a cheer floor without a pole for optimal camera angles (we appreciate your understanding in this)
We want to be able to offer the athletes as much of a "competition experience" as we can.
What to expect?
Full transparency here, so far this week not one team has had a full team practice.  For this filming session, we all need to lower our expectations.  Our staff and athletes are working very hard to have a clean routine on the floor.  We have all had two full weeks off and now they are coming back to less than full team practices.
We are encouraging all athletes, teams, coaches to focus on the POSITIVES.  We are so lucky to live in BC where we are able to come to practice, the gym doors are open, and we are able to compete at all.  We want to celebrate our athletes and what we CAN do!
We talk with other gym owners on a daily and we are all in the same boat trying to get the team's competition-ready without full team practices.
Why are we attending Snowflake if we haven't had ideal practices?

Pushing to be competition-ready for Snowflake will help us be more prepared for Cheerfest and the rest of the Season.
Cheerfest will need to be filmed in a similar fashion, so this is great practice for our staff and athletes
When will the event be streamed?
The event will be LIVE STREAMED on Saturday, January 29th starting at 10 am on the Pinnacle. Cheer Events YouTube channel. The live stream is free and can be viewed by subscribing to their YouTube channel.
Will athletes be wearing uniforms?
The million-dollar question. We are working hard and crossing our fingers to have uniforms for everyone to wear for filming. However, we have been faced with supply and shipping issues due to the current state of the World so we are unable to give a definite answer just yet and will be updating you all as soon as we know.